I am still plodding through my
bathroom mini-makeover
. It's a good thing that it's only a facelift, because this project has stretched out for more than two months! :(
But progress continues! Since my last post, My Man has installed the sink and tub faucets and vanity light.
Delta Victorian chrome faucet and vanity light
24 inches wide, we have it hung with the light shining down
Yesterday and today, I've been feverishly painting the walls. I originally wanted to jump on the grey bandwagon because I really do like pale, dove grey. But the windowless room made everything I tried look so darn dreary. I guess it is all those years of living in the Snow Belt, but grey can be very depressing if there is insufficient light. So I chose a very pretty shade of blue with a little grey mixed in. It's called
"Paleness"
by Kwal.
I have also chosen a soon-to-be-revealed white ruffled shower curtain:
My latest dilemna has to do with the mirror. Before, we had the standard-issue, frameless plate glass mirror.
It was large: 42x46 inches over our 4-foot long vanity. It added a lot of light to my room but didn't have much style. So I've been thinking about what kind or mirror would best
"reflect"
my vision. I want this bathroom to have a light and airy, vintage feel.
I already have a wonderful french mirror that I could paint and distress It is 25x41 inches overall.
It even has some of the silvering missing, but not too much, which adds to the vintage charm:
But I don't think it would coordinate well with the cleaner, straight lines of my (non-returnable) light fixture above.
So then I thought about a frameless, beveled oval mirror like this one from Lowe's for about $50. Overall size was 24x36 inches.
We actually took this one home, but it seemed way too small in scale over our vanity. Maybe it's because we're used to a much-larger mirror presence? Back to Lowe's it went.
I have another beveled gold mirror with an ornate frame that could to be painted or dry-brushed. This one would, I think, coordinate better with the light fixture. The molding is about 4 1/2 inches wide and overall size is 28x32 inches and it is lovely.
I also have this simpler but larger wood frame but no mirror, so I would have to get one cut. The molding is 3 inches wide and overall size is 31x39 inches.
Or My Man suggested that we could rehang the original mirror and frame it out. But with what style of molding? I'm just not sure.
Opinions, please??
Linking to: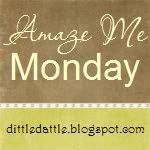 A